Learning environments: what they are, types, and characteristics
Learning environments can be understood as any type of environment in which a teaching-learning process takes place.
Although this definition is true, this term acquires a more specific meaning related to the world of education, referring to any scenario voluntarily constructed to promote the learning.
Below we will delve into what learning environments are, what are its elements, what are the main types and what aspects should be taken into consideration when they are made.
Related article:

"The 9 most important learning theories"
What are learning environments?
In its most generic sense, learning environments are all the scenarios where the teaching-learning process takes place.
These spaces are built in order to create a suitable environment so that students can establish an ideal relationship between them and the teacher, being developed to intentionally favor learning situations by actively organizing teaching resources, time and interactions that occur in them.
In recent years, the care and planning of learning environments has been gaining importance from the new pedagogical postulates, motivated by the belief that it is necessary to promote the learner's active participation and commitment of the educator. Getting a good learning environment
It will be guaranteed that the contents taught are acquired efficiently, comfortably and promoting meaningful learning
.
You may be interested in:

"Self-regulated learning: what it is and how does it affect education"
Elements of learning environments
In any educational environment of this type we can highlight at least four elements: interaction, information, production and exhibition.
1. Interaction
In a good learning environment, a trusting relationship between students and teachers, with student-student as teacher-student relationships.
Related article:

"The 28 types of communication and their characteristics"
2. Information
The information refers to the content that students are expected to acquire. It also covers the directions that teachers give their students so that they can learn more efficiently and, to the extent possible, autonomously.
3. Production
The term production refers to the product that each student makes after having acquired knowledge and experiences. It is a test of how efficient the learning environment has been, facilitating the acquisition of knowledge both in the classroom and in any other environment where the teaching-learning activity has been carried out.
You may be interested in:

"Psychology of work and organizations: a profession with a future"
4. Display
We can understand the exhibition as any time a school provides for students to demonstrate what they have learned and how deep the learning has been.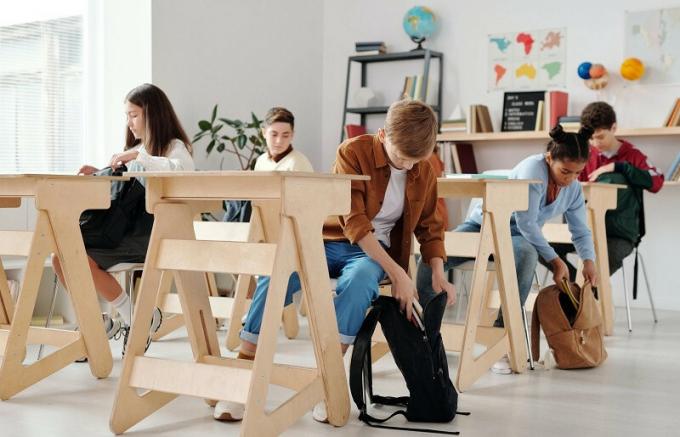 Related article:

"Evidences of learning: what they are, types and characteristics"
Types of learning environments
As mentioned before, any environment that has been specifically built for learners acquire knowledge in a meaningful way can be understood as learning environments learning. Nevertheless, These environments can be grouped into four typologies according to the degree of presence (physical or virtual) and the degree of formality (formal or informal).
1. Physical
It is about the physical environment that surrounds the students, mostly the school classroom. They are usually fixed spaces where the students and the teacher interact with each other for a few hours.
In physical learning environments are the resources that the school and teachers must adapt to ensure that students learn in the most efficient way.
2. Virtual
Virtual environments are any digital environment in which a learning process takes place. It is a telematic way of teaching that can be done through computers, tablets or mobiles and any other electronic device.
This type of environment has the advantage that physical presence is not necessary to acquire knowledge, and this means that they are educational environments that favor autonomous learning.
3. Formal
Formal learning environments are those that have been developed by institutionalized and structured educational systems, applied in schools, institutes, universities and any other regulated educational center.
These educational environments respect the regulations agreed by the educational bodies of the country, mostly ministries of education, bodies that establish the contents for each educational stage, from preschool / kindergarten to education university.
You may be interested in:

"Formal communication: what is it and what are its characteristics"
4. Informal
Informal learning environments are environments where the individual acquires knowledge without the accompaniment of a teacher or a curriculum. These types of environments are the ones we are exposed to the most times, being our home, a museum, a zoo, a conference or the street itself, and they teach us useful knowledge for our day to day.
Aspects to take into account in your planning
Next we are going to see a series of aspects to take into account when trying to develop a learning environment.
1. In-depth knowledge of the students
The teacher acquires an important role in learning environments, especially in formal ones.
As a mediator that he is, he must know his students to know what direction his classes should take, since each of his pupils has his own capacities, expectations, desires and interests. The teacher must have deep knowledge about his students to work with them, not against them.
2. Spatial organization
Space is a very important aspect to take into account if you want to create an adequate learning environment.
If it occurs in a classroom, it must be large enough, well lit with natural light and have good ventilation. It should be a place that invites study and calm. A welcoming place is a place that invites you to learn.
3. Educational materials
In a formal environment, it is essential to plan what content will be taught throughout the course. It is also necessary to foresee what materials are going to be required, such as microscopes, sporting goods, paints, papers, musical instruments ...
4. Diversification of content
Diversification of content is essential to facilitate the learning process. The teacher must resort to alternative strategies, using attractive auxiliary materials for the students. You can introduce activities that invite relaxation and fun, such as making models, group work, preparing a conference ...
Good planning not only focuses on teaching resources that are appropriate, but also engages in everyday life and reality of the student body to make the knowledge they are going to acquire useful and practical, allowing students to recognize its importance.
Related article:

"Curriculum theory: what it is, characteristics, and historical development"
Importance of a good learning environment
Good learning environments awaken students' interest in learning, since it makes them perceive the teaching-learning process not as a mere academic obligation but a fun, motivating phenomenon that invites them to learn more. This makes learning relevant, meaningful, associating it with pleasure and positive emotions that will contribute to the long-term preservation of the content learned.
If in the educational environment the student feels respected as an individual, being treated as a person whose point of view deserves to be respected and listened to and allowed to ask questions without fear of feeling judged, involvement in the educational process is still higher. In environments where children are free to ask questions and unleash their assertiveness, it makes them learn more and better.
This is not easy, since to achieve it requires highly qualified, motivated and knowledgeable teachers. vocation, teachers who are willing to make the effort to observe, analyze and put into practice various methods pedagogical. If this is achieved, the teaching-learning processes will be fluid, the students perform meaningful learning while taking learning as a fun and fun activity interesting.
Teachs.ru