The best Baroque painters and their works
click fraud protection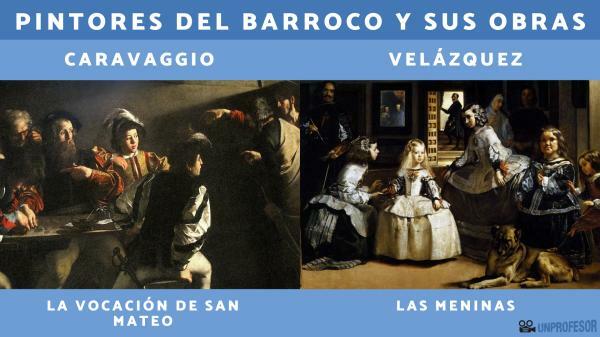 Some of the great painters of the Baroque are Caravaggio, Velázquez, Rembrandt, Rubens, Artemisia Gentileschi, José de Ribera or Anton van Dyck. The Baroque is a cultural movement that emerged in Italy at the end of the 16th century and soon spread throughout throughout Europe and Latin America, being one of the dominant styles throughout the 17th century and part of the 19th century. XVIII. A movement in which drama and passion, in addition to trying to evoke emotions in the viewer and using techniques such as chiaroscuro. The baroque theme focused on religion and mythology, also expanding to new genres such as collective portraits, landscape, still lifes or vanitas.
In this lesson from a TEACHER we introduce you to some of the best Baroque painters and their works.
You may also like:
Baroque sculptors and their works
Index
The best Baroque painters and their works

Caravaggio (1571-1610), the master of tenebrism

Diego Velázquez (1599-1660)

Rembrandt (1606-1669)

Peter Paul Rubens (1577-1640)

Artemisia Gentileschi (1593-1653)
The best Baroque painters and their works.
During the long period of time in which the Baroque emerged and developed, there were many painters who stood out for their technique and the quality of their work.
Among the most important worldwide are the names of artists such as:
Caravaggio
Peter Paul Rubens
Jose de Ribera
Artemisia Gentileschi
Diego Velazquez
Rembrandt
Gian Lorenzo Bernini
Francisco de Zurbarán
Johannes Vermeer
Nicolas Poussin
As far as Spain is concerned, the mastery and genius of painters such as those mentioned in the following list have led them to be emblematic figures of the Baroque, both locally and international.
Diego Velazquez
Jose de Ribera
Bartolome Esteban Murillo
Francisco de Zurbarán

In this other article you can learn more about the time of the Baroque: general characteristics of art.
Caravaggio (1571-1610), the master of tenebrism.
Michelangelo Merisi da Caravaggio was a italian painter that he actively worked in Rome, where he spent most of his artistic life. His work is notable for its intense realism and the use of strong contrasts of light and dark, a technique known as chiaroscuro and that became one of the main characteristics of baroque art.
With a quarrelsome, provocative and different character, Caravaggio had to face many conflicts throughout his life. A life of excess that even led him to commit a murder and flee for the rest of his life and always be wary of being attacked or arrested. After several misfortunes, Caravaggio died of an infection after being pardoned.
In his works there is a notable trace of all these experiences and thus, Caravaggio always chose to use ordinary people as models for religious and mythological scenes, giving them a sense of realism and causing scandal in the society of their time.
Caravaggio used a spontaneous technique that consisted of painting directly on the canvas, preparing it minimally and using ordinary people with rough faces and features as models, not looking for beauty or harmony and yes the truth, in addition to showing those religious scenes in a contemporary environment recognizable to the viewer.
One of his most famous paintings is "The vocation of Saint Matthew", in the church of San Luigi dei Francesi in Rome. In it, Caravaggio gives us a good example of how he used contrasts of light and dark to create a feeling of drama and movement. Other of his works are The Disciples of Emmaus, The Beheading of Saint John the Baptist or David with the head of Goliath, a good example of his mastery, whose work greatly influenced Baroque painting and was recognized by many film directors as an inspiration.
In this other lesson from a TEACHER you can learn more about Caravaggio: most important works.
Diego Velázquez (1599-1660)
Diego Rodríguez de Silva y Velázquez is the most prominent Spanish baroque painter of this period, also being one of the most influential both nationally and internationally. Velázquez began as an apprentice to the painter Francisco Pacheco, one of the most prominent artists and art theorists of that time. With him he learned drawing and painting techniques, in addition to developing a great mastery in portraiture and still life.
Velázquez opted for a naturalistic style and a notable power of observation in the portraiture of both live models and still lifes, in addition to using the technique of tenebrism. The trip he made to Italy marked his career, painting several of his most notable portraits such as that of Pope Innocent X and the Venus of Rokeby.
Among her main works are: Las Meninas, considered one of his masterpieces and one of the most iconic works in the history of universal painting. Other of his most notable works are The Surrender of Breda, The triumph of Bacchus, The Spinners, Old Woman Frying Eggs or The Water Carrier of Seville.
We recommend reading these other lessons on Velázquez – Main works and Las Meninas by Velázquez – Commentary on the work.
Rembrandt (1606-1669)
Rembrandt is another of the great painters of the Dutch Golden Age, being a painter and engraver, in addition to cultivating a wide variety of genres: portrait, landscape and narrative painting. Technically he stands out for his mastery of chiaroscuro, the masterful use of light and shadows, creating the most emotional works.
Among his main works we have The night watch, The equestrian portrait of the Duke of Lerma or The Three Graces. In this link you can learn more about the work The Night Watch: Features. Additionally, here you can learn more about Rembrandt: most important works.
Peter Paul Rubens (1577-1640)
Rubens is considered one of the most important painters of the Flemish school. During his lifetime he was already considered a teacher for his dynamic, sensual and exuberant style. A style that conquered the kings of different European courts, receiving numerous commissions, among which those from King Philip IV of Spain stand out.
Among her main works are: The descent from the cross, The Garden of Love or The Judgment of Paris, among other. You can also get to know it better by reading this other lesson on Rubens: important works.
Artemisia Gentileschi (1593-1653)
Artimisia was a italian artist representative of the pictorial movement influenced by Caravaggio and known as "caravaggism". In addition, her work is also characterized by dealing with religious themes and by making the protagonists female characters. The dynamism and violence of some of the scenes she depicted lead her to be compared to Caravaggio.
One of those works is Judith beheading Holofernes, a work full of drama that seems to have been the product of the rape that the artist had suffered.
If you want to read more articles similar to Baroque painters and their works, we recommend that you enter our category of History.
Bibliography
GÁMEZ SALAS, José Miguel. Artemisia Gentileschi: drama, revenge and feminism in her work. 2019.
HIBBARD, Howard, Caravaggio, Routledge, 2018
JUSTI, Carl. Velázquez and his century. AKAL Editions, 1999.
MIRALLES, Santiago. Velázquez and Rubens: conversation in El Escorial. Turner, 2010.
PACCIAROTTI, Giuseppe, Baroque painting in Italy. AKAL Editions, 2000
VERGARA, Alejandro. Rubens: the prince of painters. Discover art, 2004, no 62, p. 20-28.
Previous lesson
Baroque: general characteristics of...
Next lesson
Rembrandt: most important works
Teachs.ru